Painting with Pan Pastels
// May 9th, 2013 // Mixed Media, Journals & Papercraft
So, a while ago I posted a scrapbook page that I created using Pan Pastels.  I used many different techniques, and demonstrated different effects you can get using these amazing colors.  Can you believe that I never even tried using them as a medium all by themselves?  Well, today I decided to rectify that!
I got out my pastels, I have the following colors:
I was a little concerned as I looked at the colors I had, and as you look, there really isn't a good 'landscape-y green' color.  The raw umber looks greenish in the picture, but it is more of a deeper brown than green.  So, because they are promised to mix and blend nicely I decided to give it a try.
I began by mixing my yellow and turquoise to create a gentle green color.  Because the colors didn't blend completely on my applicator I found I got a mottled green, with shades of yellow and shades of blue mixed in.  They way the colors blended and layered I really liked the way my landscape green developed.  As I worked, I added the raw umber to my green to create a deeper green, titanium white for a brighter color, and the oranges/reds for more of a tonal look.  I LOVED the way the colors blended together giving the different shades and creating depth in the layers.  For my garden piece I used a small brush and mixed my pastels on the soft bristled brush much like I'd mix paint.
I have to say, I thing for landscape painting the pan pastels are my favorite medium.  These pieces are composed on canvas board, not the ideal medium for working in pastels, but the colors were able to lay nicely on the surface and the texture of the canvas added a little more depth to the pictures.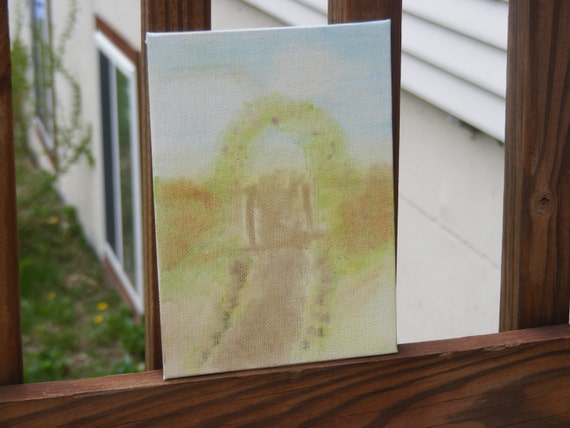 Leave a Reply